Your plucky pundit was laid low this past week by an unkind flu virus. Was it H1N1? I don't know, although it fit the symptoms. I'd recommend that everyone get the shot, if only to avoid doing something imprudent when at the height of the fever, like blogging about a dangerous topic.
I had been thinking about commenting on Ian Robinson's Calgary Sun column "
Right wing women rock
", which exhorts the discerning political analyst to "look at the shoes", but thought better of it, since I already got myself into trouble over @ daveberta by making the sexist insinuation that if the Calgary Board of Education of a decade ago weren't all female, we might have been deprived of the drama of board members writing "
nasty notes
" to each other regarding the hairdos and outfits of their fellow Trustees.
In my defence I insisted that I was refraining from judgement, since, after all, I wasn't there to assess whether the crime against fashion was on the level of mere misdemeanor or was rather grievous felony such that an appropriately snarky response or two might have been entirely called for. What was it that Edmund Burke said, "
all it takes for bad taste to triumph is for good [wo?]men to say nothing
," or something like that? So I'll just stop right there. Well, OK, maybe I won't; - I have to question Robinson's conclusion:
We've got Elisabeth Hasselbeck.

Checkmate.
Might this wrongly imply that
there is just one trump card in the deck? Although Mrs Hasselbeck does a redoubtable job of sporting a McCain T (above left), perhaps Meghan McCain (right), who occasionally
subs
for Hasselbeck on
the View
, would also be up to the task? I'll certainly grant she may be altogether
too libertarian
, but how can Twittering under "-ette" not be seen as righteously defiant femininity?
@McCainBlogette: I love being a woman. I love being a Republican. I am incredibly in touch with both of these things. Neither is going to change
If that isn't unchange you can believe in, what is? Ms McCain tells us what we all want to know:
@McCainBlogette: my shoes are steve madden, my nail polish is essie punchy pink for those that asked
Given her use of the plural here ("those") I wasn't alone in my inquiries!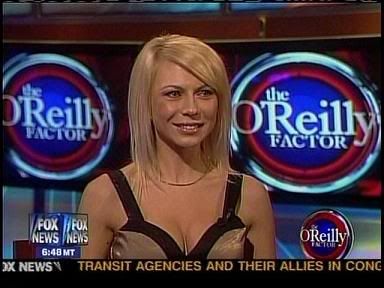 Too girly-girl? How about geeky-girl? Consider everyone's favourite fox on FOX,
Marina Orlova
(left). Someone might object that just because she appears on Bill O'Reilly's show that doesn't mean she's a right winger, but I'd point out that she's a Russian philologist, and do you know of a Russian philologist who leans left?
Checkmate.